Rebecca Vukovic, Australian Teacher Magazine
As the editor of Australian Teacher Magazine, Rebecca Vukovic and her team work tirelessly to highlight the significant work of school leaders, teachers and support staff working in Australian schools.
Through regular sections of the magazine including Top of the Class, Careers, Professional Learning and Innovation, Rebecca strives to share inspiring, innovative and exciting ways that educators are teaching the curriculum, engaging their students and improving their own professional practice.
In February 2014, Rebecca interviewed a Queensland Special education teacher, Abdulah Bakharia, about his NEiTA award win. Before the interview, she was unaware of the remarkable story that was about to unfold.
Bakharia shared with Rebecca the personal story of his beloved mother, Rada, who taught herself to read and write as a child and harboured a lifelong ambition to become a teacher. Although her dream was never realised, Rada instilled in her children a love of education from a very young age and remarkably, all eight of them went on to become teachers in their mother's honour.
Throughout the interview, Bakharia shared with Rebecca his family's personal struggles; how they moved from South Africa to pursue a better life in Australia, his mother's personal sacrifice for her children and how his siblings now share their passion for education by sharing resources and educational information.
Rebecca wrote the story, 'The Bakharia teacher production line' as the feature story in the February 2014 issue of Australian Teacher Magazine.
This story is a worthy example of the way the Australian Teacher Magazine editorial team strives to raise the profile of education in the community and highlight the wonderful achievements of those working in the sector.
The Bakharia teacher production line
---
There is an African proverb that says: If you educate a girl, you educate a community. Well, one South African woman who taught herself to read and write, has indeed created her own community of educators — each of her eight children have remarkably all become teachers.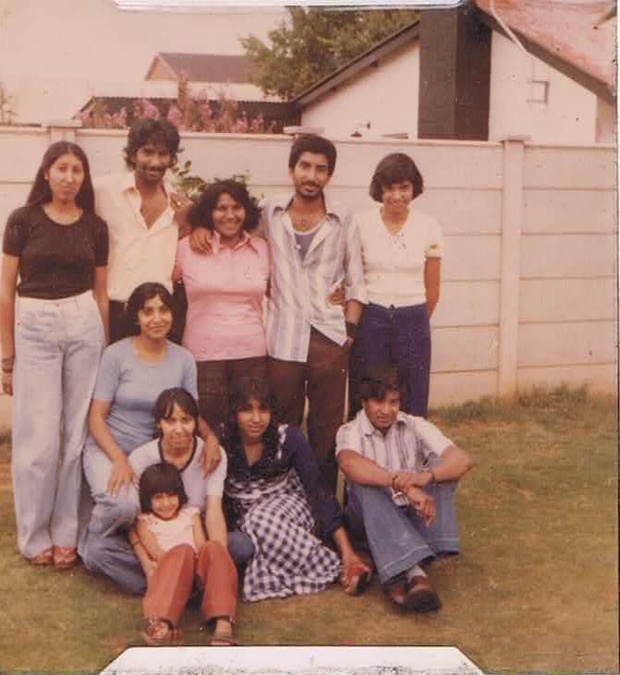 Her eldest, Abdulah Bakharia says his siblings were inspired to go down the career path by their mother's deep and unwavering value of education.
"My mother's lifelong ambition was to become a teacher," the Queensland educator tells Australian Teacher Magazine.
"She accomplished this through her eight sons and daughters." His mother, Rada, was born in South Africa, orphaned at the age of six and married at the age of 16. Abdulah's father, Ahmed, died when his children were young, leaving his wife to raise their eight children.
Rada worked up to 15 hours a day and made great personal sacrifices to raise and inspire her family of educators. Abdulah recalls life growing up in South Africa as being difficult, but he says he was never short of anything. "As a single parent, [my mother] provided for her eight children in a way that they were never short of anything," he says.
"My mum was the nucleus of the Bakharia family and ensured that, through her hard work and dedication, each of her eight sons and daughters achieved a teaching degree."
When it came to their school work, Abdulah says Rada was always on call to help them. But, finding a quiet space to study was interesting in a home filled with so many people. "The house was a mad place when it came to exams with eight of us sitting around the table fighting for space or a quiet place to do your work or your homework," Abdulah laughs.
"But, again we managed, we were always supportive of each other as well. There was very little conflict amongst the brothers and sisters." Rada also ensured that each of her children was self-sufficient and could care for themselves. "What my mum did teach us is each member of the family is able to cook, we can iron, we can sew, we can knit and my mum ensured we were self-sufficient," he says.
Abdulah had his heart set on teaching from an early age. He began his career in South Africa, before being promoted to a lecturer and subsequently promoted again to a role with the department of education. It was during this time that he met and married Julie, who is also a teacher, and had his daughter Aneesha, who currently teaches in the university sector in Queensland.
He says there was never any pressure amongst his siblings to follow a teaching career, rather they all helped one another along the way. "We varied in the courses that we took … from junior school teaching, to high school, to maths, to science, to geography teaching and so on," he explains.
There came a time when Rada decided that it would be best for the family to move from South Africa. "My mum feared for our safety while growing up in South Africa and decided to search elsewhere of a better life for her family," Abdulah says.
"My wife, daughter and I remained in South Africa, while my mum and the rest of the family took up residence in the United Kingdom. Seven brothers and sisters took up teaching positions in London and continued to improve their academic qualification by attending night classes.
"My mum visited Australia and decided almost immediately that this was the place for her family. I migrated to Australia from South Africa. Soon after, my brothers and sisters migrated from the UK to Australia. "My mum commuted between the UK and Australia once every year for almost 20 years to maintain her contact with her sons and daughters living in Australia and in London, until she passed away in London in 2012."
Although Rada never fulfilled her dream of becoming a teacher, before she passed away she formalised her education by completing her Year 10 certificate with distinction at the age of 70. "She had a desire to have a life of education," Abdulah says. "She'd say at the table, 'I'd like to open up a school and be the principal and have eight teachers serving under me.'"
Recounting the story, Abdulah laughs that his siblings would never consider working together in their own school. "Each one would want to be the principal and it would never work." The list of qualifications held by the eight brothers and sisters is astounding, and they all have a long list of accolades and achievements to their name.
But, late last year, Abdulah had his time to shine when he was nominated and subsequently awarded a National Excellence in Teaching Award (NEiTA) for his work in special education at Claremont Special School and Ipswich Special School. "The NEiTA award came as a complete surprise to me when it was announced on [World Teachers' Day] and the Day of Daniel celebrations," he says.
"I was humbled but very appreciative of the Claremont community for acknowledging my work with students with disabilities. Claremont is a great school managed by a dynamic and visionary principal, Trish Thiedeman. "I really love Claremont Special School. It is really innovative, proactive, a great teaching team as well as a great principal and admin staff and I think, without their recognition, this award would not have been possible."
Following this interview, he was also surprised to discover he'd been nominated for an Australian of the Year 2014 award. Abdulah worked as a PE teacher in a mainstream school before moving into special education in 1995. "The first day teaching these students was a culture shock, but I realised you just look beyond the disability and basically what you do have is just normal kids that play around and so on.
And I've been in special schools now for almost 18 years. "I think you can achieve more with students with special needs because everything for them is new, and there's an excitement in their eyes when they are able to do something," he adds. Nowadays, Abdulah says when the Bakharia family get together, they tend to talk about education, although things inevitably get a little heated.
"We definitely share resources, talk about education in general and what can be done and what should be done … it's always a debate," he says.
This story appeared in the February 2014 edition of Australian Teacher Magazine.